Web Design and Hosting
Getting a website for your business doesn't have to be stressful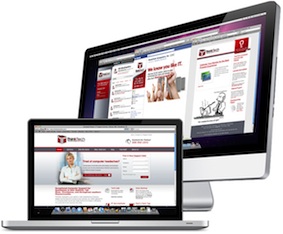 At Petronella we seek to guide your growth of efficiency in the most essential work areas. We provide much needed streamlining and increased momentum in your day to day activities which is much needed by organisations that need to scale up. We achieve this by providing you full operational awareness, better productivity and increased market reach. We offer tailored services for all industry parallels and organizations, and gear them up for smooth sailing workflows. Employing the latest and best technology has to offer, we put systems that will cut down on your workload, improve internal communication, and help you allocate resources better. And the best thing of it all: your business adapts to changing environments and demands much more faster.

Web Application Service Development
The more your service is accessible to involved parties the more faster it works. The best way to do this is through a medium that everyone has the most easy access to: the internet. We can create a service framework that connects all your supply chains, warehouses, logistics and other important functional areas of your organization together and freely establish workflows between them. We do these by building a suitable web application service that will connect your customers and your employees to your organization and perform meaningful action.
Application Client Development
If web application services are the brains of the business, application clients (or apps as they are commonly known) are the limbs of your organization. They are the interfaces that your customers and workers use to perform actions relevant to your operations. We offer to develop website applications and mobile applications for your business.
Website Applications Development
Your users can visit your website and perform requests to your service so it can perform the tasks they need. Your website application can route requests directly to your services, or through another server as needed to balance any resource constraints that your services might have. These applications are accessed from a browser. You can ask us to develop a website for you so your users can access your service across any number of devices that can access the internet, whether they are desktops, laptops, mobile phones, tablet computers, gaming consoles or smart TVs.
These applications are native to the devices that run them. What you lose in terms of cross platform accessibility, you more than make in terms of ability. For these applications allow you to make use of functions of the device they run on which happen to be personal devices that your users utilize for their tasks. When they need something, your application is there installed on their device, ready to give it to them. This means they are always, connected and interacting with your services as needed. Thanks to the proliferation of smartphones, you can expect a large number of people who are looking for a service like yours in their day-to-day.
User Interface (UI) Design
When it comes to application, users expect a simple yet useful layout of controls when it comes to applications they will use frequently. We provide responsive web design services for website to run on any number of varying screen sizes and mobile application UI design for mobile apps. When your requirement is a attractive and coherent interface for your users, we are here to deliver on those needs. We have mobile UI designers, web designers and graphic artists who are very talented in crafting the identity of your business.
Inbound Marketing
Reach out to customers interested in working with you who are interested using your with our inbound marketing services. What we are offering is a form of marketing that generates curiosity around you and prompts those who are interested for taking action. Towards that end we provide search engine optimization (S.E.O.) and social media optimization (SMO), landing page design, lead capture, Pay-Per-Click advertising and email campaigns.
What can we help you with? Send us a message or call us today for a personal consultation.
In the minds of potential customers, if your business isn't online, it doesn't exist. At Petronella Technology Group, we understand that building a website seems like a huge hassle and expense you may think is out of reach. Think again.
If you're tired of a website that is out of date, out of fresh content and out of style – or tired of not having a website at all – we're here to help.
Quality Website Design

Petronella offers customized, professional website design services with unlimited pages to tell your company's story.

Compelling Web Copy

Our writers will create tailor-made content that fits your business perfectly.

Updates & Support

Avoid the runaround and enjoy unlimited updates, changes and support requests from our one-stop website shop.

SEO

Our websites are optimized with the keywords and locations that drive more visitors to your site, delivering measurable results.

Analytics

Access reports on your website so you can track your success.

Social Media

We'll set up your Facebook, LinkedIn and Twitter accounts and keep them updated with fresh, compelling content.

Blogging

Start blogging the day your site is launched to let the world know what's going on with your business.

No Hassle, No Headaches

Pay month to month, cancel anytime and get all design, content, updates, hosting and support for one affordable price.
Of course we offer optional add-on services which you can add or remove at any time, including custom rotating banners, logo design and press releases.
Our comprehensive website services provide you with high-end graphic website design, ongoing content management, periodic graphic refreshes and search engine optimization. It's like having an entire professional Web development firm at your fingertips for one affordable monthly fee.
Included: 1+1=3 Social Media Program!
1. Design and Account Setup
Facebook Business Page
Account setup and configuration
Page logo customization
Welcome page customization
Twitter Account
Account setup and configuration
Background customization
LinkedIn Services
Account setup, profile optimization, ongoing LinkedIn Coaching to learn how to connect to your ideal audience.
2. Content Syndication
Blog Syndication - Setup and configuration for your website's blog to update all of your social media profiles – in a way that always links back to your website.
Weekly Status Updates - In addition to syndicating your blog content, several times a week we'll post engaging and entertaining status updates to your social media profiles.
3. Social Media Dashboard
Social Media Setup & Configuration - View and edit posts scheduled as well as an overview of your social media accounts.
Isn't it about time your business got noticed?