Fully-Managed Unified Cybersecurity Operations
Petronella's unified approach to security operations allows any size organization with any size budget to significantly reduce cyber risk.
Petronella combines managed security operations with a highly automated XDR platform in order to provide resource-challenged organizations with comprehensive visibility and threat detection & response across their entire IT infrastructure.
Delivered by a team of U.S.-based cybersecurity experts, the Managed XDR Suite eliminates the need for organizations to recruit and retain expensive cyber analysts.
By combining unified visibility with advanced SOAR automation, Petronella allows IT and security teams to avoid the complexity and cost of managing multiple security platforms, reduces alert fatigue, and most importantly identifies and stop threats before they have time to escalate into full-scale cyber attacks.
Managed XDR Suite Full Visibility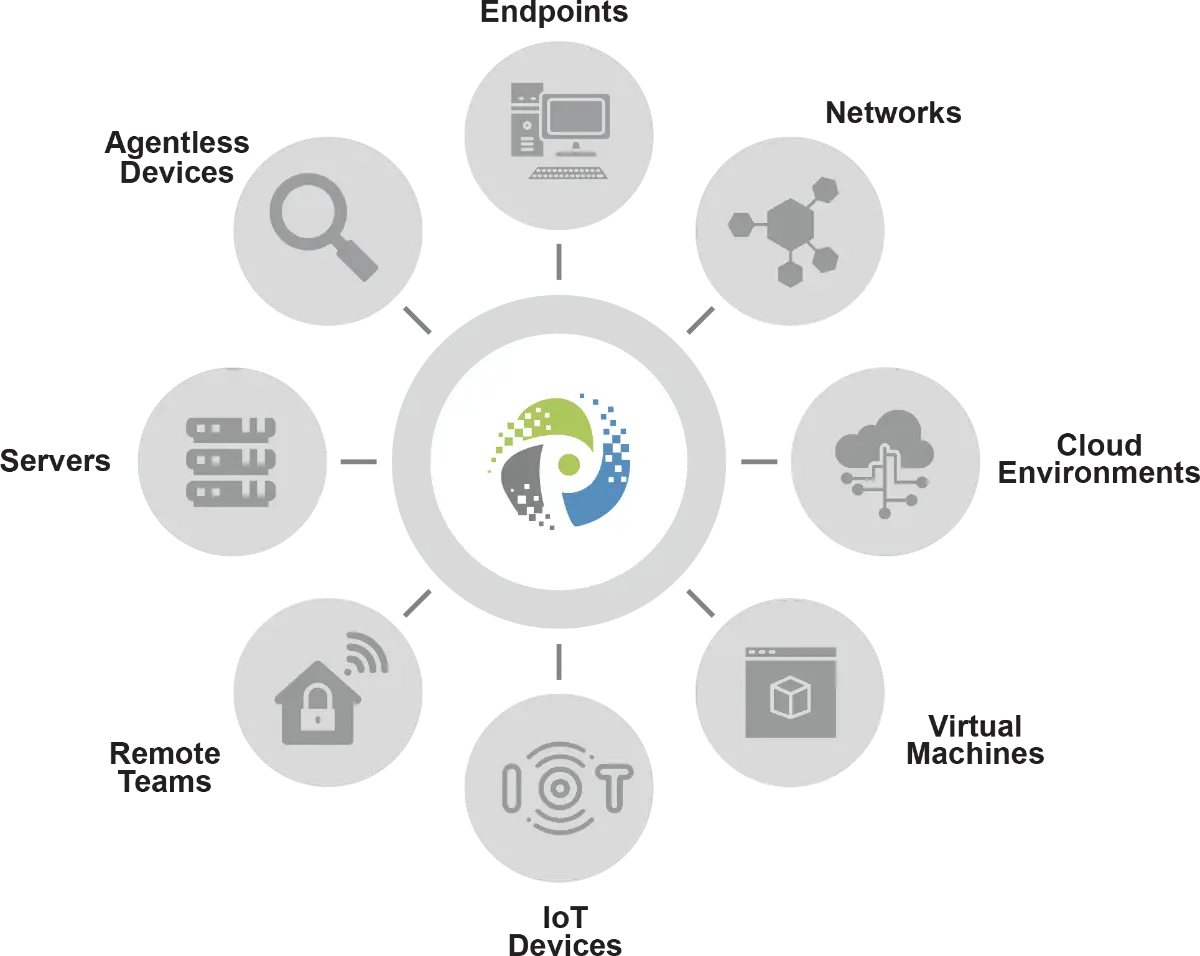 See Everything. Stop Everything.
The Managed XDR Suite combines network-based deep packet inspection with a fully-managed SIEM and advanced SOAR in order to support detection & response, vulnerability detection, and visibility across your entire IT infrastructure.
By fusing leading cybersecurity technology with unified security operations, Petronella actively protects organizations of any size in today's rapidly evolving threat landscape.
U.S. Based
24x7 SOC

U.S. based Threat Hunters investigate and respond to advanced threats targeting your organization, conduct forensic investigations, and provide remediation recommendations.

Managed SIEM +
Advanced SOAR

Shorten the response time to the most critical cybersecurity alerts putting your organization at risk with Petronella's fully managed SIEM + Advanced SOAR. Petronella's SOAR functionality provides immediate risk reduction and eliminates alert fatigue for the Petronella SOC, ensuring the most critical alerts are investigated in a timely manner.

Network
Detection & Response

Protect any device connected to your network with Petronella's unique deep packet detection and response. Ideal for detecting advanced threats that bypass EDR or the Firewall and for protecting devices that cannot support an agent.

Cloud
Monitoring

Protect your cloud environments from being compromised with comprehensive monitoring of all leading cloud providers including: Azure, Google Cloud, AWS, and Office 365.

Vulnerability
Detection

Quickly identify and respond to network and device vulnerabilities with agentless vulnerabilities scanning. Detect vulnerabilities for all endpoints and servers wherever they reside - on premises, at home, or in the cloud.

Protect
Remote Teams

Protect remote endpoints via SIEM agents installed on remote endpoints regardless of where they are physically located. Protect remote networks by inspecting all network data packets, and automatically blocking all indicators of compromise (IOCs).

Cybersecurity
Compliance

Lower cyber risk and affordably comply with many of the technical controls of CMMC/NIST 800-171, GDPR, GLBA, FFIEC and HIPAA.

Multi-Tenant
Management Interface

Access a comprehensive view of your entire secured environment with realtime insights into how the Managed XDR Suite is identifying and blocking cyber adversaries attempting to gain access to your IT infrastructure.
Enhance your organization's security with optional features including application allowlisting, secure file sharing and email security.
SOC Managed
Application Allowlisting

End allowlisting alerts forever with PETRONELLA Protect - the first SOC-managed Application Allowlisting solution. Access a curated global allowlist of 12+ billion known safe applications. Enact local, and custom allowlists and instantly deliver updates to users, groups and organizations.

Email & Phishing
Security

Scan every inbound, outbound and internal email. Prevent phishing, malware and ransomware from spreading within your organization or to your customers and partners, with email and phishing security managed by Petronella's U.S. threat hunters.

Managed
Data Defense

Stop ransomware and data theft for all files on your endpoint devices with multifactor authentication (MFA) for file access. Keep data secure wherever it goes with file encryption and secure file sharing.

Managed
Secure Hard Drives

Protect your data with government certified Data at Rest (DAR) protection that complies with FIPS, CC, and CSfC, protecting data on any O/S with full disk encryption, makes data invisible, and automatically responds to threats.
Petronella Partners with:

Windows Defender
Sentinel One
Sophos
Cato Network
Amazon Web Services
Azure
Google Cloud
Office 365
SysLogs
CrowdStrike
Powerful Integrations
The Managed XDR Suite ingests and monitors security logs from leading enterprise and cloud-based cybersecurity solutions in order to provide visibility and telemetry across your entire IT infrastructure.
By fusing advanced SOAR technology with unified visibility and managed security operations the Petronella XDR Suite actively protects organizations of any size in today's rapidly evolving threat landscape.
Only Petronella's Managed XDR Suite uses machine learning, proprietary algorithms, and intelligent edge nodes to automatically identify and block threats while constantly filtering alerts to maximize the signal-to-noise ratio. We defeat
advanced adversaries while addressing your company's most daunting compliance requirements.
Partner with Petronella and receive protection tailored to your company's unique security and compliance requirements-now and into the future.
Please contact us today to discuss the XDR options we have available
to help with Fully-Managed Unified Cybersecurity Operations