How HIPAA Can Crush Your Medical Practice

#1 Amazon Best-Selling Book!
Why Most Medical Practices Don't Have a Clue about Cyber Security or HIPAA and What to Do about It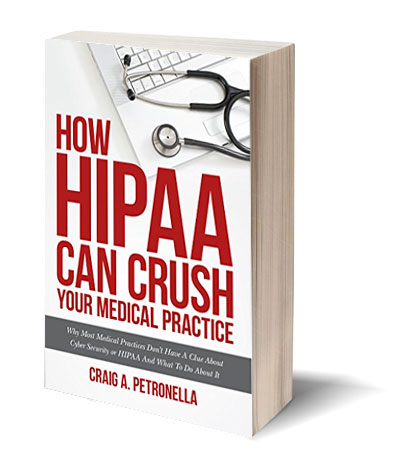 What You'll Learn From This Book?
There's no time to waste. If you're a medical provider who wants to protect your patients and your practice, you need to read this essential guide to cybersecurity today.
Did you know that hackers can hold you hostage and get money from you… repeatedly… with "ransomware?"
Did you know that one wrong click could infect your network with malware, cause a HIPAA breach and bring your practice down to a screeching halt?
Did you know that one innocuous USB stick can cost you millions of dollars in federal fines?
The risks are grave and they are taking hostages every day. Will you be next? What precautions should you take?
This book gives you solid answers in an easy, one-hour read. Craig Petronella has digested huge amounts of information for you, gleaned from hundreds of industry journals, seminars, conferences, experts, clients, and up-close-and personal, unmitigated disasters that he's had a front row seat to, and condensed his experience and expertise into a book barely over one hundred pages long.
HURRY! This Offer Won't Last Long!
Here's What Other People Are Saying:
"How HIPAA Can Crush Your Medical Practice, by Craig Petronella, is a sobering analysis of the very real and growing threat of cyber ransom. It offers proven solutions and proactive steps that thwart extortionists who can steal confidential patient information from your servers and hold you up for ransom, threatening to bring the iron-HIPAA fist down on your practice like a ten-ton wrecking ball. Ignore this book at your peril."

-Daniel LevisAuthor, The Email Alchemist and The Web Marketing Advisor

It is said, "Evil knows no bounds." In this extremely fast-paced age of technology and new social media forms advancing faster than most can comprehend, let alone grasp, it is crucial to proactively address the ever-increasing potential of cyber threats that social media, workplace exposure, data breaches, and hackers bring to your doorstep.

-Larry J. Fenn, Global Account Executive at Global Money International"

A MUST read for everyone that owns a business which directly or indirectly supports the medical market!

-James Bitzes, Attorney at Law
| | |
| --- | --- |
| How HIPAA Can Crush Your Medical Practice | What People Are Saying About "Your Book" On.. |
Here's What You'll Learn From This Amazing Book:
What the Health Insurance Portability and Affordability Act is and who's in charge of it.
The complexity of HIPAA and the consequences of failing to meet its requirements.
How past breaches have occurred and how you can learn from their mistakes.

The cyberthreats that most commonly threaten HIPAA compliance.
Various ways to increase your cybersecurity and protect your patient records.
The types of IT services available to you and what works best.
​​​​