CMMC Compliance: Your First Step is Here.
Petronella Technology Group, Inc. is a CMMC Certified Registered Provider Organization (RPO) with the Cyber-AB. CMMC Certified Registered Practitioners on Staff Are Available To Help You with CMMC, NIST and DFARS Compliance.
DFARS, NIST, and CMMC v2.0 Compliance
Based on some confusing and potentially conflicting information we have found, we thought it was extremely important to clarify all expectations that the DoD has of its primes, sub contractors and vendors.
From listening to countless podcasts, watching and attending webinars, completing official CMMC Cyber-AB certification, becoming a Registered Provider Organization (RPO), and reading any and every publication and white paper we could get our hands on, one thing regarding cybersecurity is clear:
The DoD is done messing around.
We do not say that to scare or alarm you. On the contrary, we want to empower and embolden you. We want our clients to have a competitive advantage in this ever-toughening DIB marketplace, and we do not want you to lose your contract. We also want to help keep not just YOU safe, but we also pride ourselves in the role we play in strengthening the national security of our great nation that we love so much. LEARN MORE ABOUT THE NEW DFARS Interim Rule here. Did you know that every prime, sub and vendor MUST have uploaded an assessment onto the Supplier Performance Risk System (SPRS) by December 1, 2020 if they want to even be considered for a contract? NIST/DFARS compliance has been in place (and has been the law) for over 5 years, but sadly most defense industrial base contractors are failing their compliance mandates.
WHERE DO YOU START WITH CMMC 2.0?
We hear this question asked so often by overwhelmed contractors like yourself that we created a free NIST/CMMC v2.0 FREE Self-Assessment. With this assessment, there is NO right or wrong answer, but it will give you an idea as to where you currently stand. It is your FIRST STEP to NIST and CMMC compliance.
The guidelines in NIST SP 800-171 were highly effective, however, the self-reporting and attestation was not.
According to Katie Arrington, the former Chief Information Security Officer for the Office of the Under Secretary of Defense for Acquisition, who was helping to spearhead the CMMC initiative, over $600 billion in data and information is stolen ANNUALLY from the US government! The reason the Department of Defense (DoD) is forging ahead quickly with CMMC requirements is that the government realizes how insecure the current supply chain is and that contracts have a five-year life cycle.
American companies must act now to ensure that their cybersecurity hygiene is at the point where we can fight off bad actors.
WHAT IS CMMC v2.0?

CMMC v2.0 MODEL FRAMEWORK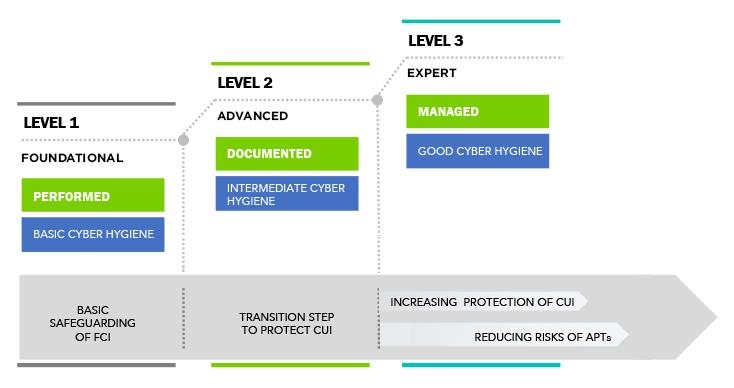 Learn how you can secure your government contract and become CMMC v2.0 certified:
CMMC v2.0 Preparedness with CMMC Certified Petronella Tech (RPO)
The price of the formal CMMC v2.0 audits is not currently known, here at PTG, we have extensive experience implementing other similar requirements for contractors; requirements that are the backbone of the CMMC maturity levels, including NIST SP 800-171, NIST SP 800-172, NIST SP 800-53, DFARS 252.214-7012, 252.214-7019, 252.214-7020, etc.


PTG has developed a unique approach in helping your company get 80% of the work done to prepare for the upcoming CMMC audits.


PTG offers multiple options to fit every defense contractor's needs and budget.
| | | | | |
| --- | --- | --- | --- | --- |
| CMMC Retainer Services | CMMC "Readiness" Gap Analysis | Patented Cybersecurity Stack | CMMC Virtual Workspace | Secured Hosting |
Please contact us today to discuss the options we have available to help you pass your upcoming CMMC audit on the first try.

GET CMMC v2.0 CERTIFIED