12 Little Known Data Protection Facts and Insider Secrets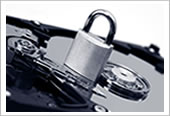 There is a simple fact that is true for nearly every small and medium sized business (SMB) owner and manager in the world: If you were to lose all of your data at one time, for whatever reason, the consequences would be devastating. In fact, most experts agree that it would likely force your company out of business.
This means that choosing the right Data Protection Plan and the right Data Protection Services Company is one of the most critical business decisions that you will make!
We can help! Because we would never want to see a fellow SMB suffer bankruptcy or close its doors due to not having adequate Data Protection Services, we have prepared The 12 Little Known Data Protection and Insider Secrets Every Small and Medium Sized (SMB) Owner/Manager Should Know About Protecting Their Data and Choosing a Data Protection Services Provider.
Fill the form to the right to download this FREE guide and you will discover:
What data protection services are and why every SMB should have them in place
Six critical reasons why merely backing up your data is never enough
Where tape backups fail and give you a false sense of security
Frightening statistics every SMB owner/manager should know and consider regarding Data Protection Services
Three very important reasons to consider utilizing a Professional Data Protection Services Company
Seven essential criteria you should demand from any Professional Data Protection Services Company