FOR BUSINESS EXECUTIVES WHO ARE
RESPONSIBLE FOR CHOOSING AN IT PROVIDER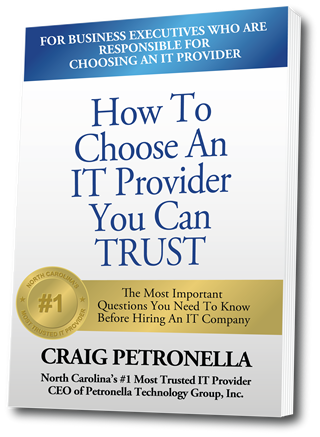 by CRAIG PETRONELLA
The Most Sought After Private Advisor for CEOs
Looking To Grow Their IT To the Next Level
WHAT'S INSIDE?
Straight Talk From An IT Insider
Who Has Personally Handled
IT Reform From Within
Craig Petronella's insight on learning how to pick an IT provider you can trust comes with an entire career of knowledge. With his hands on experience, as well as running Raleigh's most trusted IT company, Craig has no lack of experience with IT or with business. This book will help you recognize what your company NEEDS to make your employees and processes more productive by providing the right IT infrastructure.
Is your IT company proactively looking for problems in your system?
Are their solutions custom built for your specific industry and company?
What are their contracts, fine print and termination fees really like?
Check their customer service reviews, quality and quantity.
What is their response time during an emergency like?
Do they have the certifications to back it up?
How to assess your current IT to see what you need
Is your tech running as fast, quiet, and cool as it could be?
Those are just a few of the questions and tips you can be asking to help assess your current IT situation. As an IT business owner and in depth knowledge of the IT industry, Craig has witnessed first-hand the key characteristics of IT companies that care about their clients, and ones do the best work for them. This book will give you insight you need when making the all important decision of which IT company to choose.
ABOUT CRAIG PETRONELLA
Craig Petronella has spent his 23-year computer career supporting such operating systems has Microsoft, Apple, Linux, Unix, and DOS. In addition, Petronella has supported the small business community with the installation and development of blade servers, fiber optics, iSCSI SANs, VMware virtualization configurations. He is certified through all seven layers of the OSI model, spanning from network cabling through to the cloud.

In early 2002, Petronella started Petronella Computer Consultants, Inc., dedicated to provide comprehensive IT outsourcing and managed services to business companies in need of either a completely outsourced IT department or assistance with a specific area of specialization.

Our clients value us as a technology partner and a seamless extension of their IT staff. Eventually, Petronella Computer Consultants established a solid reputation of excellent service, growing the firm with satisfied customer referrals.

Since the firm's creation, they have performed services ranging from focused technical support to complete system designs.

We continue to strive towards excellence in service and reliability having served over 5000 customers in just over twelve years in business.
FOR BUSINESS EXECUTIVES WHO ARE
RESPONSIBLE FOR CHOOSING AN IT PROVIDER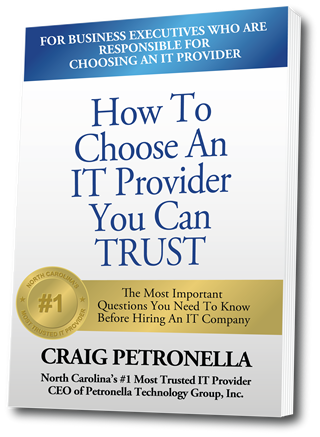 by CRAIG PETRONELLA
The Most Sought After Private Advisor for CEOs
Looking To Grow Their IT To the Next Level