05 May 2021
"This award is huge for our company! We're thrilled to have received the 2021 Local Excellence Award! We absolutely love what we do and it shows through our customer reviews. Thank you to UpCity for recognizing our efforts and to our incredible clients. We can't thank you enough."

-Craig Petronella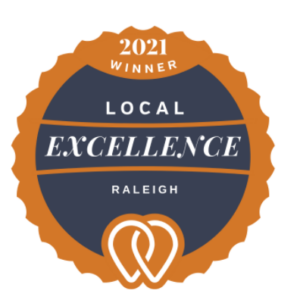 Petronella Cybersecurity and Digital Forensics Announced as a 2021 Local Excellence Award Winner by UpCity!
For more than a decade, UpCity's mission has been—and continues to be—to help businesses find B2B service providers they can trust. The UpCity Recommendability Rating was developed to determine a service provider's credibility and recommendability, giving UpCity the confidence to recommend them to the more than 1.5 million businesses that visit their site.
Each year, UpCity analyzes and scores more than 70,000 service providers based on their UpCity Recommendability Rating and acknowledges the top national and local providers with an UpCity Excellence Award. The results are in, and we won!
We are ecstatic to announce that the Petronella Cybersecurity and Digital Forensics team has been recognized as one of the top B2B service providers of 2021 in the Raleigh area by UpCity!
Keeping brands safe online is more than a password protector to us. We value the wellbeing of our client's brand that we pull out all the stops to ensure cyber safety is at the center. To do this, our team of certified IT professionals proactively manages and monitors security activity. Our commitment to speed and efficiency drives us to perform our best for our clients each day.
Dan Olson, CEO of UpCity, had this to say about Petronella Cybersecurity and Digital Forensics:
"It can be hard to know who you can trust. Especially in the wild west of the digital landscape. But with Petronella Cybersecurity and Digital Forensics, all their clients can rest easy knowing their site is protected. This team has incredible dedication to certifications and education. It's no surprise a well-rounded team like this is receiving the Local Excellence Award. Congrats!"
– Dan Olson, CEO, UpCity
This recognition has been driven in large part by our 5-star review rating on UpCity. Here are a few of our favorite pieces of feedback we've received from our incredible customers:
"Jonathan from Petronella Cybersecurity saved my laptop from its death cycle. Jonathan called me back within minutes of my help ticket's submission and patiently gave me troubleshooting help over the phone for my Microsoft Surface Pro. My laptop was up and running again within the four-minute conversation. Thank you, Jonathan and Petronella Cybersecurity!"
–Isabella Alfaro, Petronella Cybersecurity and Digital Forensics Customer
"I've had the pleasure of working with Blake and Craig, both of which are very knowledgeable. I am starting my own business and have found the advertising services from Petronella to be effective. I am very pleased and would recommend to anyone looking for a team of dedicated professionals."
–Nicole Lee, Petronella Cybersecurity and Digital Forensics Customer